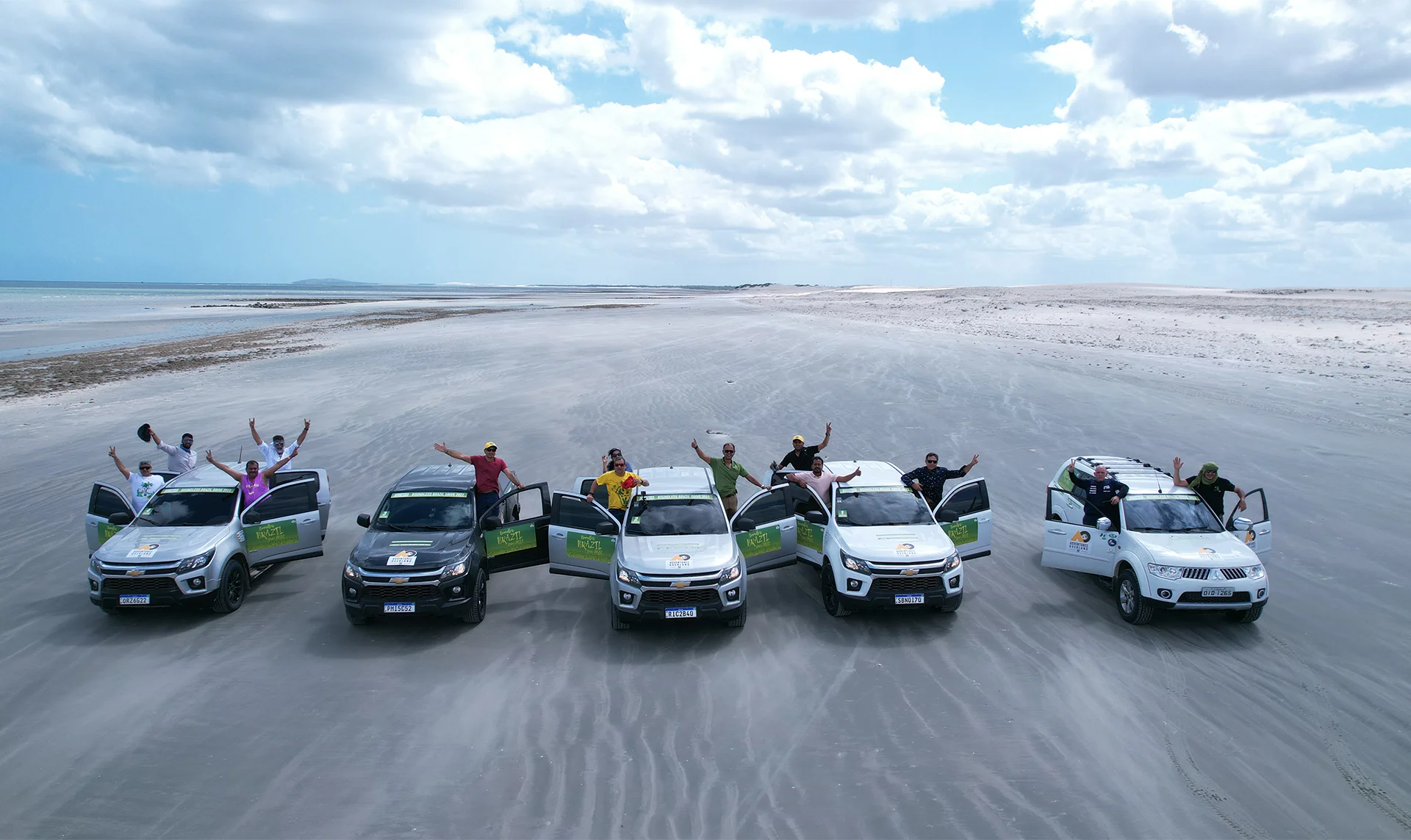 Why Adventures Overland?
A brainchild of Sanjay Madan and Tushar Agarwal, Adventures Overland was established in the year 2012 and is today universally recognized as the end word in the realm of self-drive expeditions within India, and across the world. Our promise of a luxurious experience, has withstood the test of time and earned us a dedicated clientele who have undertaken multiple journeys with us, and keep coming back for more. Smooth city roads, dense forest paths, high-altitude mountain passes, slippery stretches covered in ice and even glaciers along with vast salt flats; we have cruised upon and conquered all!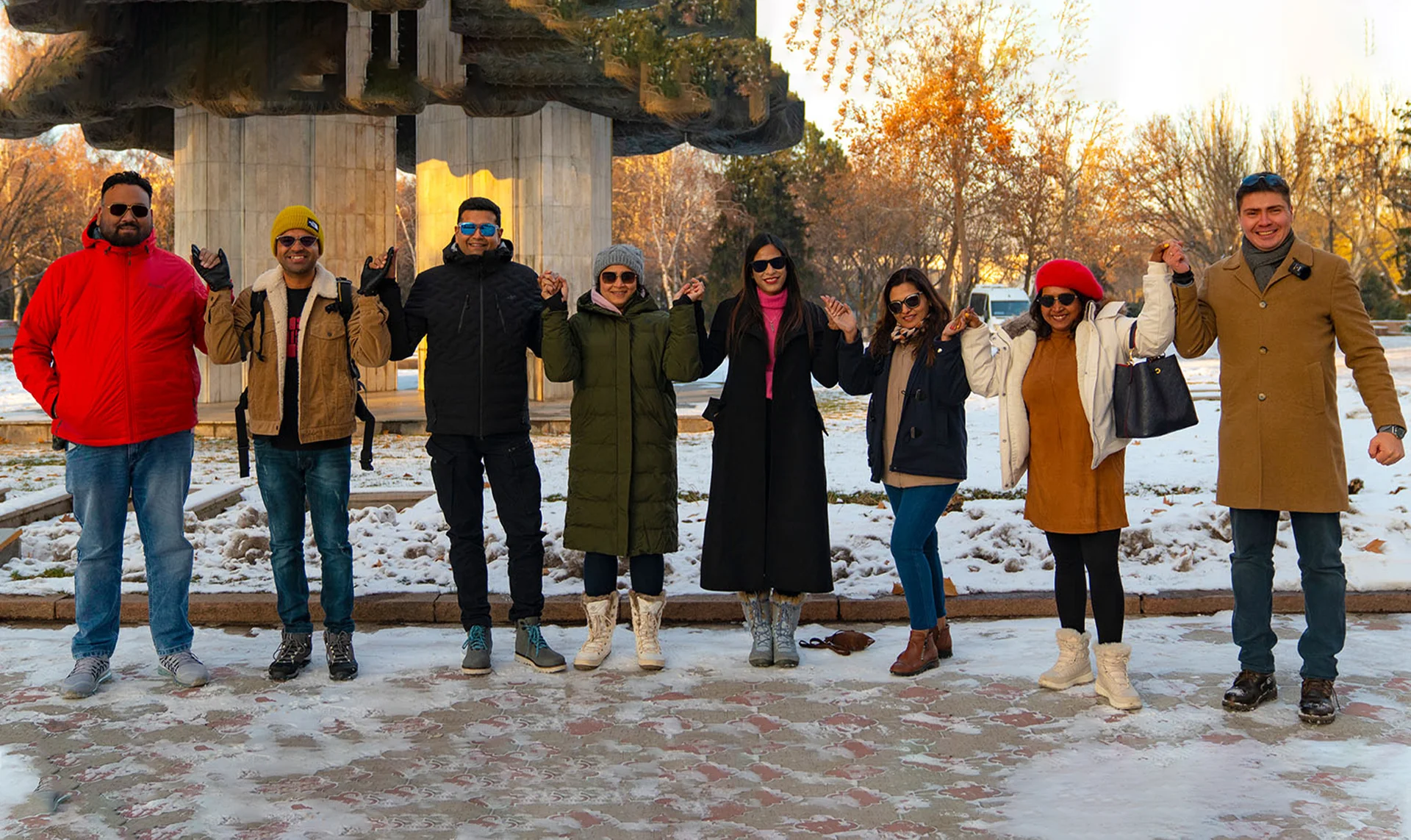 Why Partner with Us?
We have successfully proven ourselves as an organization that is diligently working towards transforming lives of people by initiating them onto the path of self-discovery. In 2017, we launched a trailblazing journey called the 'Road to London', which has become a massive success and has been successfully executed multiple times since then. We have also been at the helm of launching the longest bus journey in the world; the Bus to London covers 18 countries over a course of 70 days, AO has also helped Indian travellers in exploring the road less travelled by frequently organizing driving expeditions in some of the most remote and tricky terrains like Alaska, Iceland, Jordan, Russia, South America and Africa amidst others.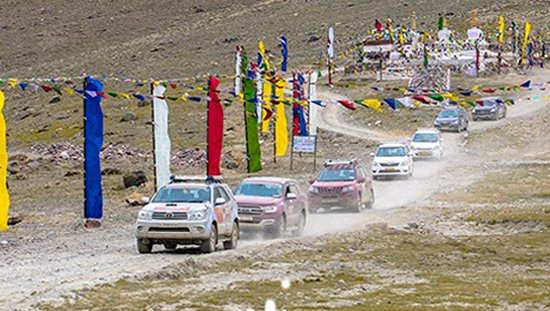 Why India?
India is like a stunning present, waiting to be unravelled. It's time that the world views India as more than its popular representation. Our country has moved by leaps and bounds towards urbanisation, while still managing to keep its unique historical verve and appeal intact. All you need is the right travel partner to help you discover it in all its glory. And this is where we come in! With Adventures Overland, you can achieve the above without compromising on safety, luxury or even your budget. With our fleet of powerful Toyota Fortuners, your sojourn within India promises to be nothing short of perfection
Upcoming Road Trips 2023-24
Adventures Overland has planned fabulous Self-Drive Road Trips as part of its Fixed Departures. The coming year promises a mesmerizing medley of expeditions for those who seek to wander, and discover themselves anew.
Get ready to feel the wind upon your face as you zip through myriad terrains, make unscheduled stops, meet & greet a wide variety of folks and become one with the road. As you cruise along and ramp-up the numbers on that odometer, you will witness the world slowly transforming around you. Road tripping also inculcates spontaneity as you tend to nod yes to trying new things, and find renewed strength and patience within yourself to deal with unexpected situations.
So, if it is complete catharsis that you seek, give yourself up to the call of the open road and come join us on any of our upcoming adventures.
Himalayan Drive – Ladakh
This is one drive that every road tripper should undertake. With unending panoramas that are as surreal as they are beautiful, Adventures Overland Ladakh Drive is an experience to rival the best and beyond. Launching from Chandigarh – 'The City Beautiful' – this self-drive expedition takes you through some of the most exquisite destinations in India, with the majestic Himalayas keeping you company.
From Manali, Jispa, Leh and Nubra Valley to Srinagar via Kargil, these two weeks will leave your senses reeling in the most exhilarating way possible, as you discover what it means to be truly free and out on the open road.
Ideal visiting window:

June to September

Duration:

15 days / 14 nights

Terrain to expect:

High Mountains, Valleys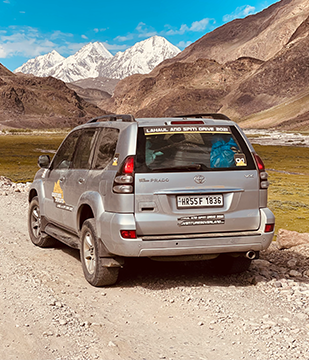 Himalayan Drive – Lahaul & Spiti
"We are now in the mountains, and they are in us, kindling enthusiasm, making every nerve quiver, filling every pore and cell of us." If you wish to capture this feeling, rendered beautifully into words by legendary mountaineer John Muir, then our Lahaul & Spiti Drive is just what the doctor ordered.
To be flagged off from Chandigarh – this self-driven expedition will have the participants zipping through postcard-pretty towns like Theog, Sangla, Tabo, Kaza and Manali, which proves true to the moniker it popularly goes by – 'Valley of the Gods". We promise you will find yourself yearning to make unscheduled stops to take in scenes that portray the unbelievable artistry of nature to perfection.
Ideal visiting window:

June to September

Duration:

21 days / 20 nights

Terrain to expect:

Mountains, Valleys, Forests, Cities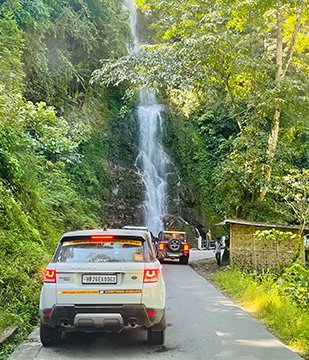 Himalayan Drive-North East India
Charismatic, mystical, and akin to a gem with many facets – India's Northeast is like a spectacular secret waiting to be unveiled in all its glory. Natural graces and cultural riches come together in the most amazing fashion in this part of India. Incomparable experiences within spectacular destinations like Kaziranga, Majuli, Ziro, Balipara, Dirang, Tawang, Tezpur, Cherrapunji and Guwahati – along with the best that nature has to offer – lend this road trip a distinctive appeal.
Get ready to be wowed by the unspoilt natural beauty, impressive diversity and warm hospitality of the sister states. Let the roads guide you towards an extraordinary adventure as you get behind the wheel.
Ideal visiting window:

September to November & February to May

Duration:

21 days / 20 nights

Terrain to expect:

Mountains, Valleys, Forests, Cities | Road: Tarmac and Gravel Road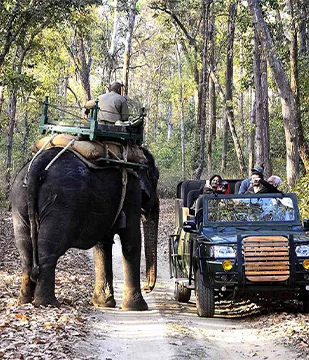 The Heart of Incredible India: MP Road Trip
At the centre of our luminous country lies Madhya Pradesh. MP is a true wanderer's paradise, a richly-textured amalgamation of world-renowned heritage sites, sprawling wildlife retreats, places of great religious significance, and immense natural beauty.
Taking off from the capital city of Delhi, this road trip will begin in Gwalior and take you through Orchha, Khajuraho, Bandhavgarh National Park, Kanha National Park, Panchmarhi, Bhimbetka and Sanchi before concluding in the Madhya Pradesh capital of Bhopal.
Ideal visiting window:

October to March

Duration:

20 Days / 19 Nights

Terrain to expect:

Forests, Cities | Tarmac & Gravel Road
Royal Rajasthan Drive
Opulence, thy name is Rajasthan! The land of the maharanis and the maharajas, which stands resplendent still in its vintage glory – touring this Indian state is sure to be a kaleidoscopic experience indeed. Festooned with imposing forts and awe-inspiring palaces aplenty, Rajasthan is quite literally the 'Land of Kings'. Our road trip through Rajasthan will commence from the vibrant capital city of Jaipur, and take you to destinations like Ranthambore, Bundi, Chittorgarh, Udaipur, Narlai, Jodhpur, Jaisalmer, Bikaner, Khimsar and Pushkar.
Prepare to be caught in a melange of colours and sounds as you weave through the roads and terrains of Rajasthan while enjoying its rousing music, folk dances, and splendid architectural grandeur.
Ideal visiting window:

October to March

Duration:

25 Days / 24 Nights

Terrain to expect:

Cities, Old Town, Desert | Tarmac and Gravel Road

West Coast Drive
Travellers have repeatedly described India, as a country that leaves you bound in its spell. Bursting with life, colour, and variety, and blessed by nature – it's a delightful conundrum that will force you to visit again and again to decipher its many secrets. We offer you one self-driven road affair that will lead you up & close to the western coastal region of India.
Slated to take off from the City of Dreams, Mumbai, this exciting expedition will take you through places such as Mahabaleshwar, Ganpatiphule, Goa, Hampi, Chikmagalur, Mysore, Athirappilly, Munnar and Kumarakom before drawing to a close in Kochi.
Ideal visiting window:

October to March

Duration:

25 Days / 24 Nights

Terrain to expect:

Mountains, Forests, Cities, Coastal Stretches | Tarmac and Gravel Road
East Coast Drive
The aroma of food that comes imbued with the flavours and spices of the particular region; the sights and sounds that are intrinsically woven into the fabric of a place; the seemingly endless curving roads and sometimes narrow lanes that take you into every nook and cranny worth exploring – the joys of undertaking a road trip are many indeed. And our self-drive expedition across the East Coast of India promises to be a thoroughly invigorating excursion.
Ideal visiting window:

October to March

Duration:

16 Days / 15 Nights

Terrain to expect:

Cities, Coastal Stretches | Tarmac and Gravel Road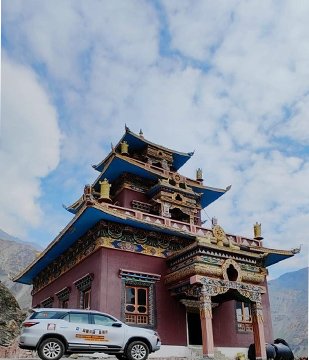 Beatific Bhutan Drive
The last great Himalayan Kingdom, cloaked in an aura of mystery and blessed with immense natural beauty, Bhutan is a delightful revelation. Devoted to sustainable tourism practices, the Bhutanese are proud of their humane approach that stresses the happiness and well-being of its inhabitants and visitors more. A road trip through Bhutan will introduce you to a world that easily wears both its mantles, one of the traditional Buddhist cultural values, and another that welcomes contemporary development with open arms.
Ideal visiting window:

March to May & September to November

Duration:

16 Days / 15 Nights

Terrain to expect:

High Mountains, Valleys, Hills | Tarmac and Gravel Road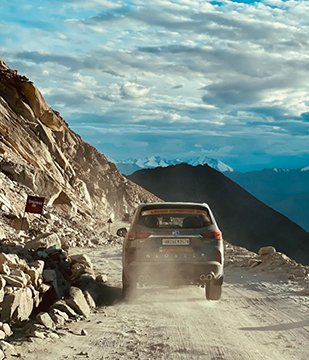 The Mustang Valley Drive – Nepal
Looming mountains bedecked in snow, ornate temples, rolling greens and untethered wildlife – Nepal may be small, but it packs quite a punch indeed. This Himalayan cultural hub has a lot to offer to all manners of tourists; road trippers, backpackers, trekkers, as well as those seeking to discover its secrets at a leisurely pace. Our journey into Nepal will launch from the buzzing capital city of Kathmandu, and take you through places like Pokhara, Jomsom, the mystical Mustang Valley, Lo Manthang, Muktinath, Beni and the exceptional Chitwan National Park.
Ideal visiting window:

April to June & September to October

Duration:

15 Days / 14 Nights

Terrain to expect:

High Mountains, Valleys, Hills | Tarmac and Gravel Road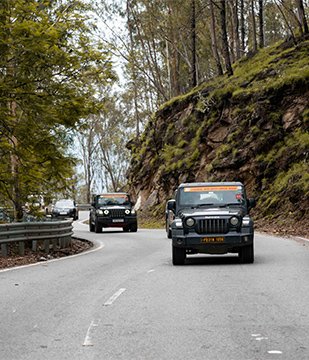 Trans-Himalayan Expedition
"There is something about the Himalayas…. something unseen and unknown, a charm that pervades every hour spent among them, a mystery intriguing and disturbing."
This unprecedented self-driven expedition, which will run a course of a staggering 6,500 km across India, Nepal and Bhutan, is an Adventure Overlands ode to the monumental magnificence of the Himalayas. Expect constant companionship of crisp mountain air, rolling greens, unending stretches covered in glittering snow and an all-pervading aura of divine grace.
Ideal visiting window:

September to October

Duration:

61 Days / 60 Nights

Terrain to expect:

High Mountains, Valleys, Hills
Download the complete brochure
Meet us at ITB Berlin at
Stand Number 238, between 7-9 March 2023